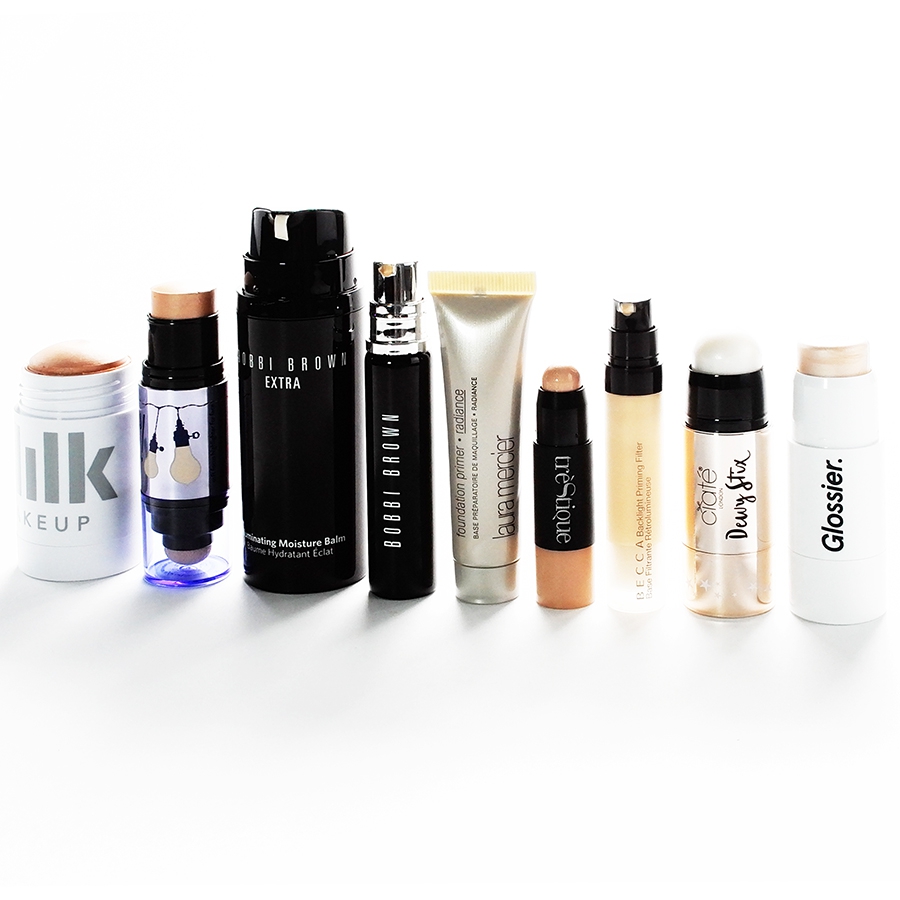 Yeah, I have thirteen makeup highlighters - I realize it's a little unnecessary! The first highlighting makeup I purchased was Bobbi Brown Extra Illuminating Moisture Balm, and the rest.. well.. I'm a product junkie!
Highlighting, low-lighting and contouring are a must these days. AND there are hundreds of highlighting products to choose from. Before I get in to the specifics, they're all similar. Yeah, the only major difference is whether the product is a solid (creamy-stick), dewy-balm-like stick, powder or liquid. Maybe some have anti-aging qualities or contain SPF, but aside from texture, color and sheen, they're closely related. Here's what I have to say about some of the more popular highlighting products..
Want a slight glow - Bobbi Brown Extra Illuminating Moisture Balm is subtle and effective. Application is smooth and the barely-there sheen is flattering. Another BB liquid highlighter is Bobbi Brown Face Highlighter. This light liquid will give you super-shiny highlight. It has a strong gold-tone, and there's a whole lot of sparkle in this product. Laura Mercier Foundation Primer - Radiance has a gold-tone and lots of micro sparkles. This light liquid is a bit much for my facial skin, but looks great on legs and shoulders - mix with your body moisturizer and blend well. Primers are great for subtle brightening.
BECCA Backlight Filter Face Primer is unique in that it blurs imperfections, while giving your skin a radiant glow. The super-lightweight liquid absorbs nicely. There is a subtle glow, but barely-there sheen. Be warned, this product has a strong scent (for those who are sensitive). Like the Bobbi Brown Extra Illuminating Moisture Balm and Laura Mercier Foundation Primer - Radiance, this product is for priming your skin. The effect is subtle, but makes a difference.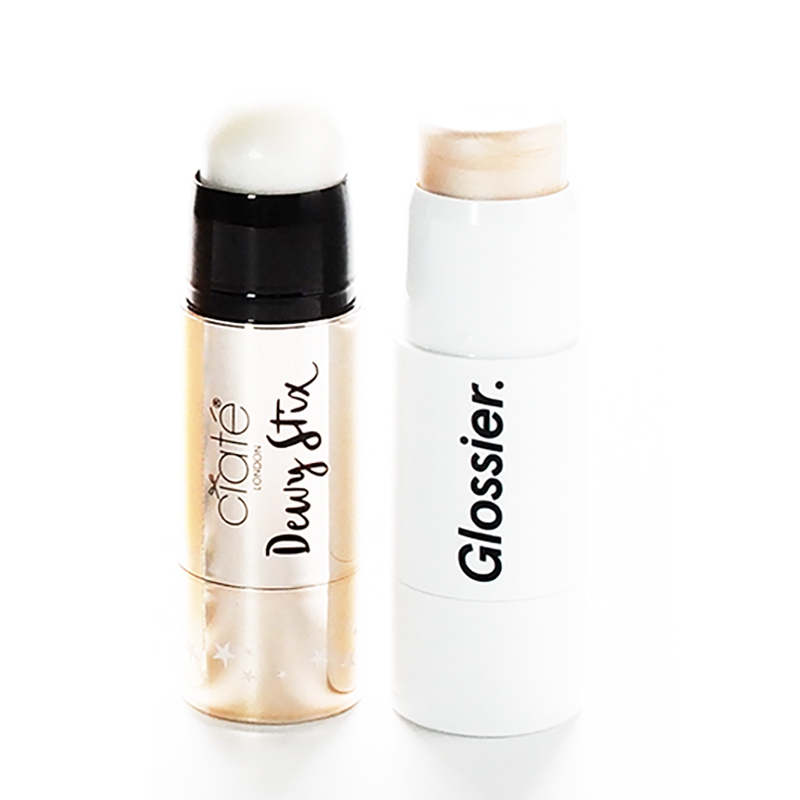 Want a dewy look? Ciaté Dewy Stick has a balm-like texture that glides on oh so smoothly giving your skin a low-shimmer, dewy glow. This The super-light balm is creamy (not tacky). This multipurpose product nourishes your skin, illuminates and leaves a wet-dewy-like sheen. LOVE! Glossier Haloscope is similar, but has more shimmer. The dual-delivery formula combines makeup and skincare. The inner solid oil core contains vitamin-rich minerals, while the outer circle contains genuine crystal extracts. This two-in-one product is lightweight and high-shimmer. Both these dew-infusing products are great for those no makeup days.
Use my link to get 10% off your first Glossier purchase - http://bff.glossier.com/gMn0U
My go-to highlighters are MILK Makeup Highlighter (perfect for body), Benefit Watt's Up! Cream-to-powder Highlighter (favorite), and tréStiQue Mini Highlight & Perfect Multipurpose Stick. MILK Makeup Highlighter is the size of a round deodorant. The larger surface allows for great body application. The product melts with your body heat and blends nicely. I use it on my legs and arms. The Watt's Up! Cream-to-powder Highlighter is the perfect shade (on pale or sun-kissed skin), and the little sponge applicator is handy when you're on the road. I use a damp Beauty Blender (with water and Farsáli Rose Gold Elixir) to blend the Watt's Up! highlighter. The tréStiQue Highlight & Perfect Multipurpose Stick is a similar shade and texture to the Watt's Up! The cream-gel product glides on smoothly, and the luminescent shade is perfect on sun-kissed skin.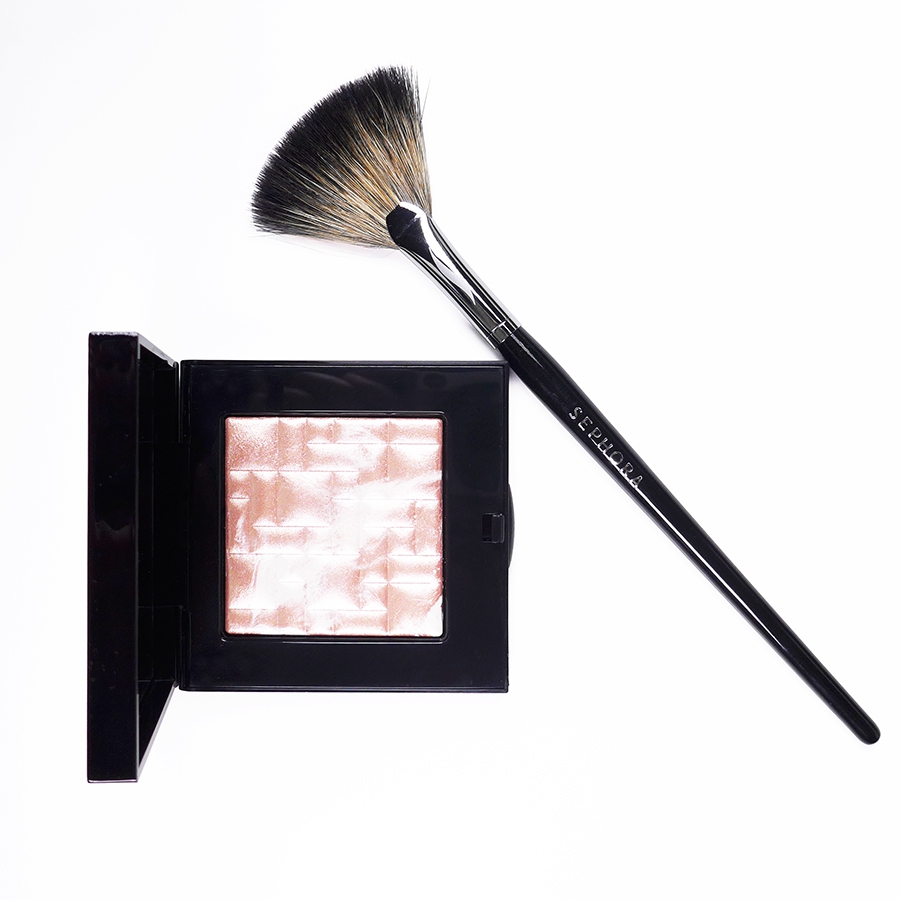 Powder highlighter is still my go-to finishing touch. I LOVE Bobbi Brown Highlighting Powder in Pink Glow. The cool-pink highlights are nice on pale skin, and the effect is subtle (apply lightly). I use a fan brush to lightly sweep the product across my cheek bones. For more intense shimmer, I use a dense brush and sweep the powder down the bridge of my nose and across my cupids bow. This product is for specific highlighting (not an all-over glow). This powder highlighter is perfect for a little extra light-reflective glow.
I consider highlighting a necessity. Even when your skin looks drab and downright yucky - highlighting will do wonders for your complexion. Apply an all-over illuminator to, well.. allover. Apply makeup highlighter to your cheek bones, down the bridge of your nose (don't go all the way to the tip) and across your cupids bow. Fake a fresh glow and highlight.