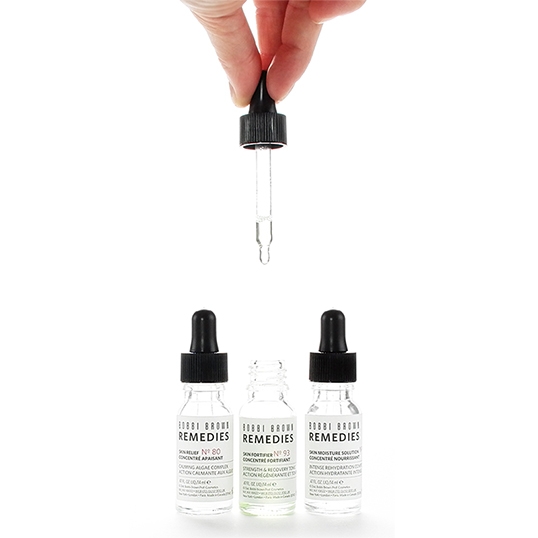 When I read that Bobbi Brown Cosmetics would release a collection of skin 'Remedies', I was super excited. I felt like I was cheating on my adored Glossier serums, but a collection by my favorite cosmetic brand is too tempting. Of course, I purchased all six Bobbi Brown Remedies (product junkie here). These remedies treat everything from dehydration to irritation to problem skin..
Skin salves are having a moment - or maybe I'm having a salve moment and just assume everyone else it? The Remedies Skin Salve No. 57 is a MUST HAVE. A few weeks ago, I peeled dry skin on the side of my nose and literally caused a huge split (super painful and stupid). I applied this salve many times for three days and the wound healed completely. This salve is great for chapped lips and super dry areas (anywhere you have damaged skin). I use it on my cuticles - it keeps them nourished and they appear to be in much better condition. The super nourishing ingredients in Skin Salve were chosen to repair dry, damaged and compromised skin. Shea Butter binds moisture to the skin, while Beeswax creates a barrier. Natural root extracts, carrot and licorice, were added for their moisturizing properties. The super-thick formula has a pleasant, fresh scent - some say carrots, but I smell cucumber (even though there is no cucumber on the ingredient list).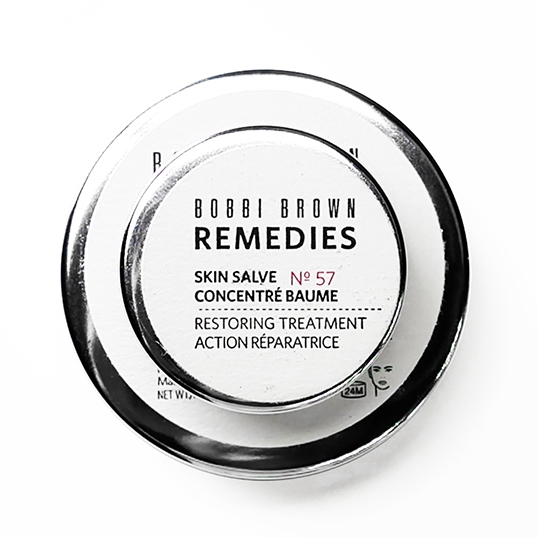 I still struggle with the idea of using oil to combat oily skin and clogged pores. Years ago, my dermatologist told me to avoid anything that contained oil - BUT apparently oil is the new 'de-clogging' remedy. Skin Clarifier No. 75 is comprised of skin-purifying Manuka Oil, Sea Buckthorn Oil, Rosehip Oil (rich in nutrients), and Saw Palmetto Oil to control sebum levels. Together these oils exfoliate your skin and clean out pores. This thick clarifier is super oily (smells like oil too) and heavy on your skin. I recommend you apply this treatment last in your nightly routine and a little goes a long way, so just a few drops. Skin Clarifier is the only in the collection that causes my rosacea to flare-up, so I apply it sporadically. I can't say if it's improving my skin as of yet.. Layer over Reviver and under Skin Relief to treat problem skin.
Skin Relief No. 80 - Natural ingredients from Israeli Red Algae and Knotted Kelp calm skin irritation and reduce the appearance of redness. Red Algae is known for its soothing properties and redness reducing powers. This non-greasy, calming algae complex is weightless, absorbs fairly quickly and leaves your skin feeling soft. I have rocasea and need all the 'skin relief' I can get. My face is usually red in the AM (after washing and applying product), and this serum does temporarily relieve the redness. Layer over Skin Reviver and Skin Clarifier to treat reactive, problem skin.
Skin Moisture Solution No. 86 - This intense hydration compound contains Sodium Hyaluronate - a powerful moisture magnet. It can absorb up to 1000 times its weight in water. This Skin Moisture Solution promotes natural Hyaluronic acid (skin plumper) production and restores skin's moisture levels. The solution is medium-weight, absorbs fairly quickly and feels silky on your skin. In combination with Skin Reviver and Skin Relief, my skin does appear more hydrated and less irritated. Layer over Skin Reviver and under Skin Fortifier (super heavy tonic) to boost dull, dry skin.
Skin Reviver No. 91 - This power greens ferment is super rich in antioxidants. The lightweight solution contains extracts from green algae, fresh kale, spinach and brussels sprouts. YES, those little, smelly (I'm not a fan), cabbage-like orbs are making their way into skincare. This remedy is kinda like a green juice for your face. The ferment goes on like water and absorbs quickly. The scent is strange; familiar, but unrecognizable and subtly unpleasant (you get used to it). I like the Skin Reviver ferment very much. It absorbs fast and doesn't irritate. I wouldn't say my skin looks 'amazing' due to these remedies, but with all the stress and traveling I've endured, I don't look too bad! When layering Bobbi Brown remedies, apply Skin Reviver first.
Skin Fortifier No. 93 repairs and replenishes the skin's moisture barrier. Your skin's ability to protect itself will allow it to hold moisture and keep toxins out. This light-green tonic contains lipid-rich ingredients to supplement your skin's ceramides, fatty acids and cholesterol. Muru Muru Butter promotes supple skin, cold pressed Meadowfoam Seed Oil and Olive Oil supplement skin's fatty acids, Rasberry Leaf Wax is an essential lipid that gives skin structure and Soybean Sterols bolster skin's cholesterol. Sound heavy? IT IS! This tonic barely absorbs, so stay away from delicate fabrics. THIS STUFF IS THICK AND OILY. I'm not a fan of heavy oil on my face, so I'm hesitant to apply this serum. Layer over Skin Reviver and Skin Moisture to combat dry skin.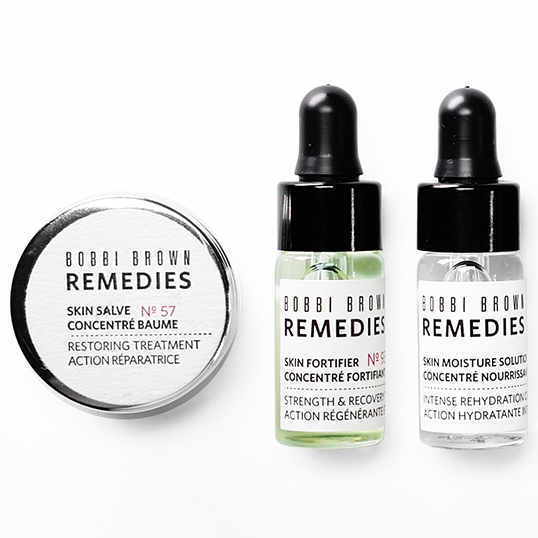 I thought I had retired my Glossier serums and shacked up with Bobbi Brown Remedies, but I am not so sure.. I will repurchase the Skin Reviver No. 91. It's super light-weight, absorbs quickly and I'm a fan of 'topical greens'. I'm on my second bottle of No. 80 and No. 86, but I'm not sure I will repurchase. I do however LOVE the salve.
Each bottle has a smart dropper that allows for easy, controlled dispensing. Always layer (never mix solutions), and allow each remedy to dry before applying the next. Apply these remedies light-weight to heavier solutions. Bobbi Brown Remedies retail for $45. The Rescue Kits retail for $35 and contain 3x3 ml remedies to combat different skin issues - Recovery Rescue Kit, Clarity Rescue Kit, and Moisture Rescue Kit. These kits are a great way to sample the products for a fraction of the cost and the mini bottles are perfect for travel.