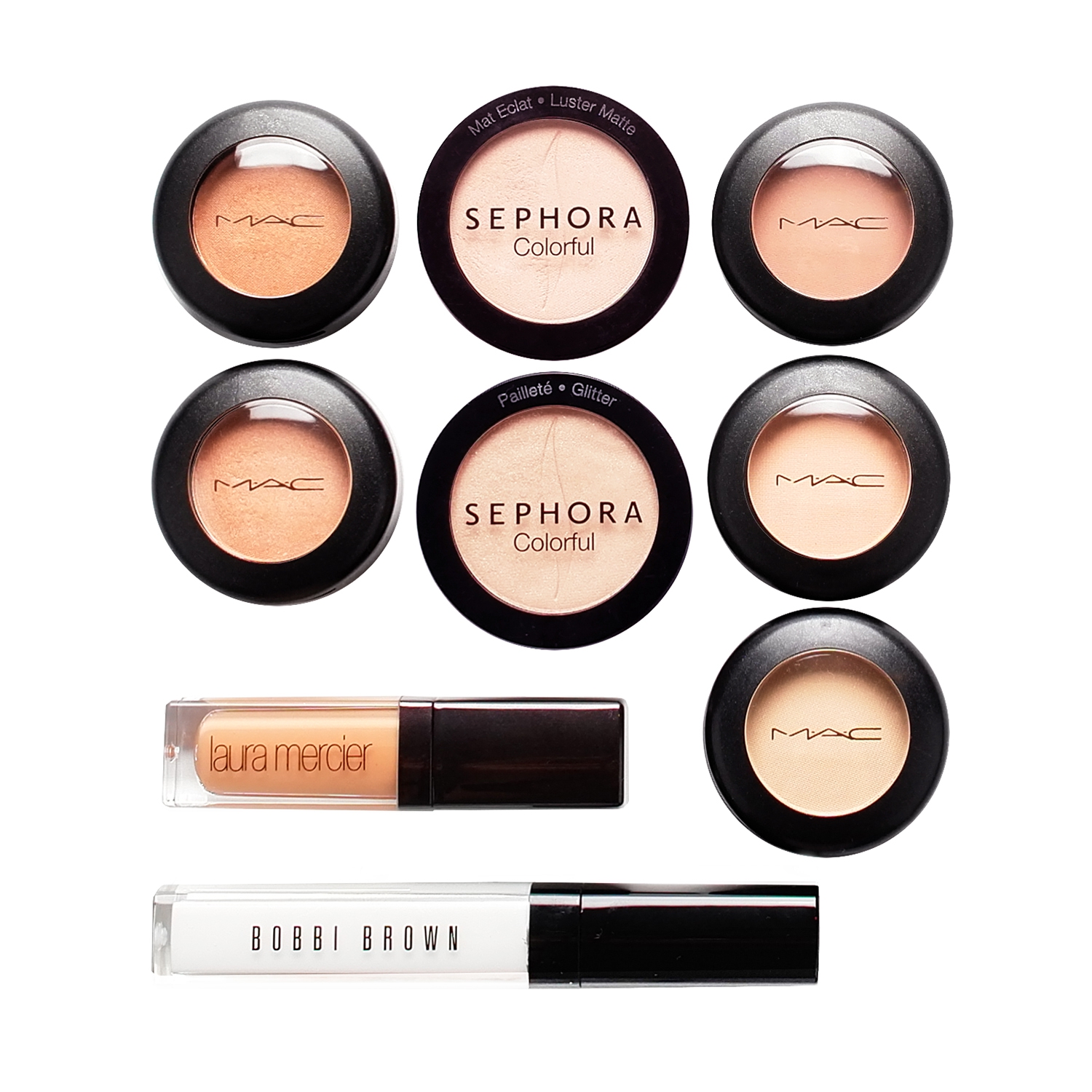 I'm a no-makeup makeup kinda girl. The first and last time I swayed from my barley there eye makeup routine, I applied blue mascara AND had a severe allergic reaction to the blue dye! Back to my skin-tone eye shadows and black mascara... I love nude eye shadow palettes, but they usually contain darker shades for a smokey look and I rarely go beyond a dark skin-toned eye shadow. All my eye shadow palettes are slowly withering in my Cosmocube. Albeit, I'm still addicted to eye shadow palettes and have too many! I'm more inclined to purchase single eye shadows and create my own perfectly nude palette.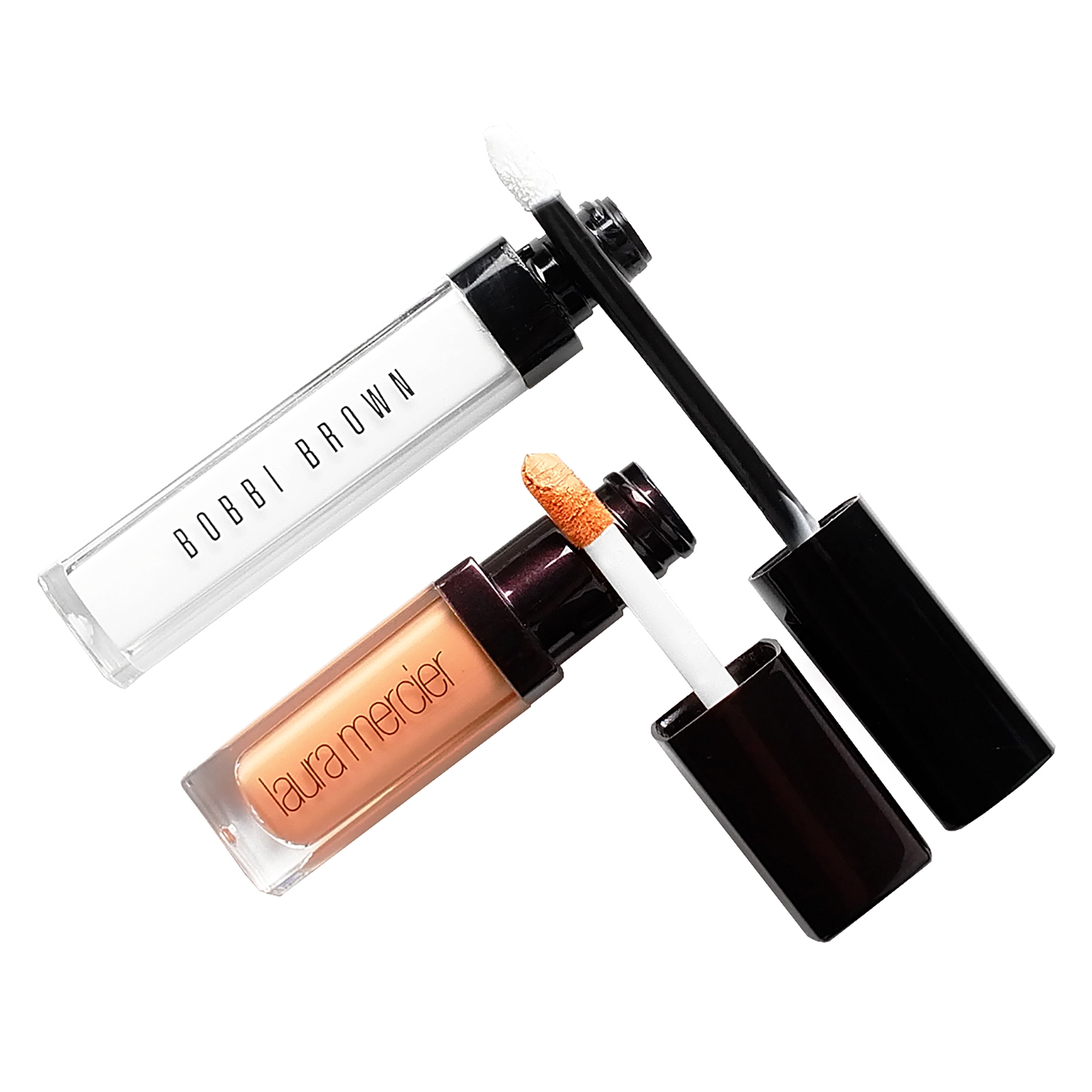 My barley there eye makeup routine consists of seven pink-toned and skin-toned eye shadows, maybe a little sparkle and lots of layers. BUT, first prep + prime is essential. I'm obsessed with eye creams. I use Benefit Cosmetics It's Potent! Eye Cream or Bobbi Brown Cosmetics Hydrating Eye Cream under my concealer and shadows, and Bobbi Brown Extra Eye Repair Cream in the AM - yes, I have a wakeup and refresh skincare routine and then a prep + prime for makeup application routine. For anti-aging, I use Neocutis Lumiére Bio-restoraive Serum Powered by PSP and Neocutis Lumiére Eye Cream with PSP before bed. This stuff is amazing!
The Bobbi Brown Cosmetics Hydrating Eye Cream To Go is compact and the doe-foot applicator is super soft. The hydrating eye cream is light, silky and the perfect under-makeup moisturizer. Your under-eye area feels smooth and refreshed. This 6 ml travel size lip gloss-like tube (limited edition) is convenient and perfect for travel. I prefer this on-the-go applicator over the original Bobbi Brown Cosmetics Hydrating Eye Cream pot.
Primers are essential to an even skin-tone. Yes, your eyelids need a little primer too. Laura Mercier Eye Basics eyelid primer is like foundation for your eyelids. This primer is available in six shades - even a pale blue to brighten your lids. The foundation-like primer is creamy, conceals discoloration and creates the perfect base for eye-makeup. Eyelid primer is a must-have for the perfect nude(ish) look.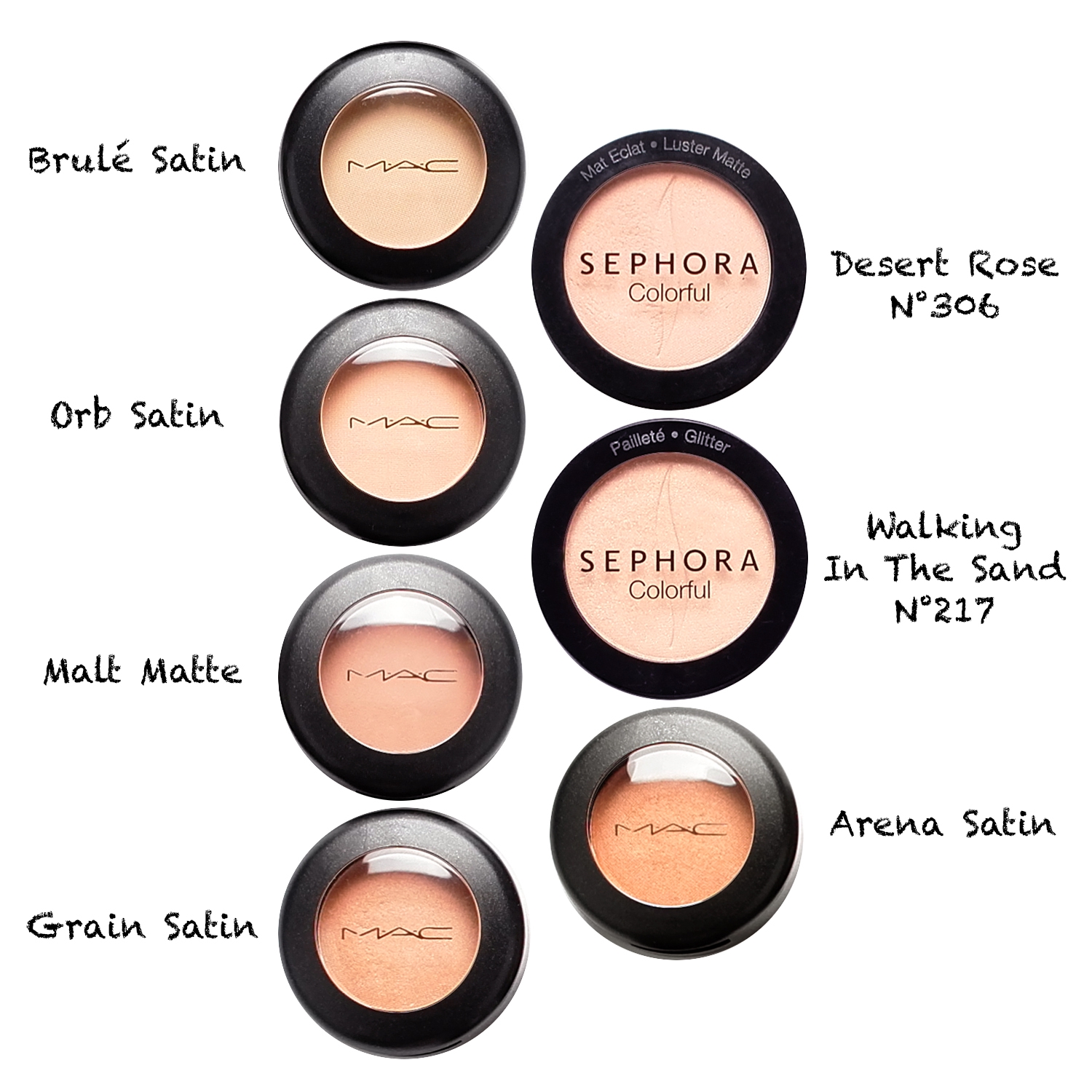 Back to my perfectly procured list of barely there shadows. I have to admit, I'm not a huge M.A.C fan, but the pink and skin-tone eye shadow selection is vast. The on-trend shades are gorgeous and the pigmented eye shadows last all day on your lids. I typically start with the lightest shade, apply pink-tone eye shadow to my lids and then two darker shades at the outer corner of my eyelids and in the crease. The final look is subtle, but makes my eyes appear uniform and brighter.
Apply Brulé satin eye shadow all over (up to your brow), Orb satin eye shadow all over (up to your brow), Malt matte eye shadow from the crease to your lashes, Grain satin eye shadow along the crease and blend Arena satin eye shadow from the outer corner and along the crease. Gorgeous! The subtle layers create dimension and elevate your natural, no-makeup makeup look.
I have been a fan of Sephora Collection eye shadows for years. The selection 'was' vast, the eye shadows are inexpensive and the pink-toned shades met my eye-makeup needs. There doesn't seem to be a big selection of the Colorful shadows anymore? Sephora still creates beautiful shadow palettes, but the single eye shadows are becoming obsolete. Bummer, cause I love the Sephora Colorful luster matte shadow in Desert Rose. The light pink shade is perfect for those 'I don't have time for makeup' days.
The Sephora Colorful glitter eye shadow in Walking in the Sand is a similar pink shade but has a little sparkle. I use this eye shadow to highlight the center or inner corner of my lids. This one is on sale at Spehora.com - Imma stock up.
I kinda wish I was aware that Sephora is discontinuing the Colorful eye shadow collection before I included two of my favorites in this list, BUT you can use these shades as a reference.. AND, it takes forever to shoot and edit these photos - Sephora Colorful eye shadows shall remain on my perfectly procured barely there eye makeup list.