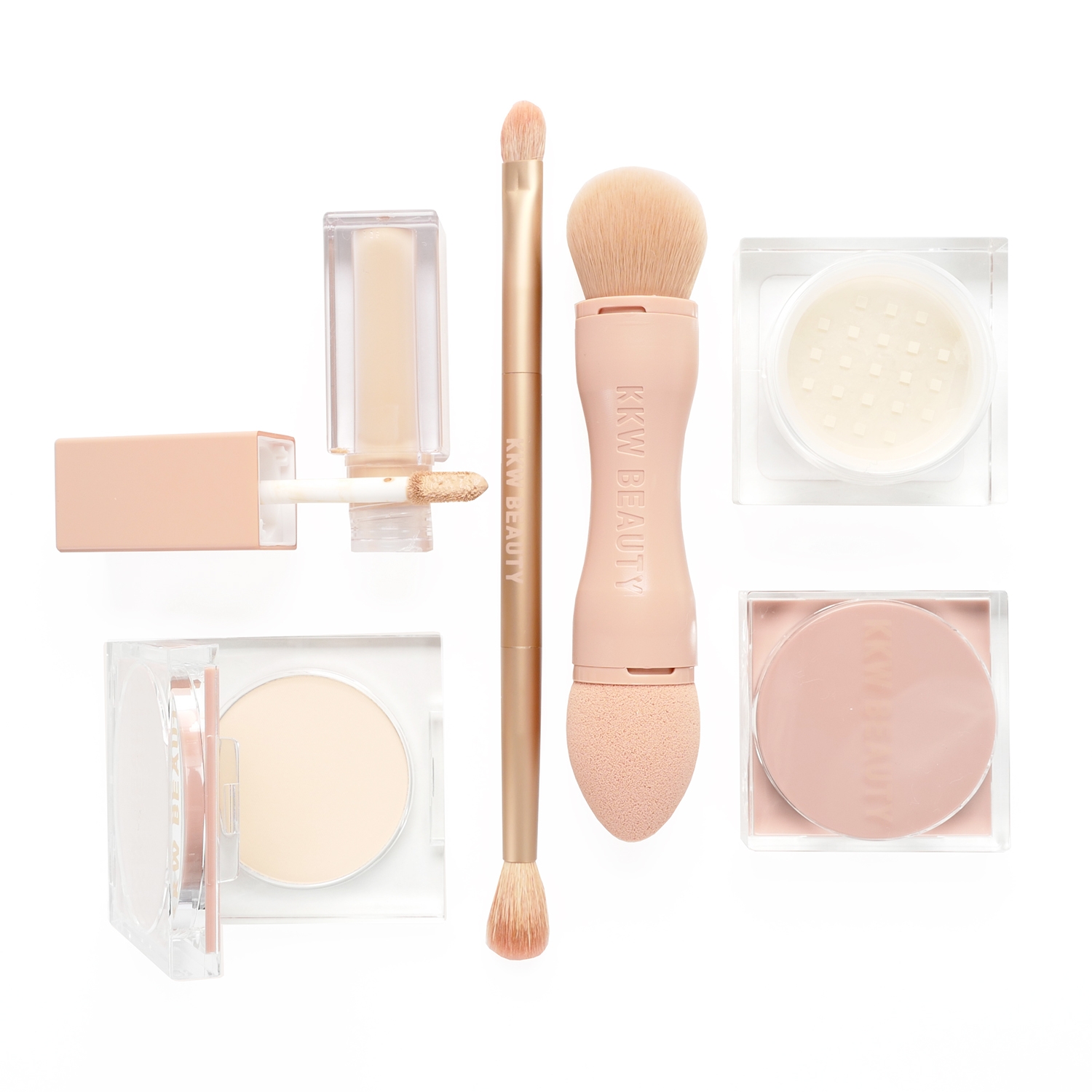 It's the product junkie in me! I'm not a fan of the "franchise", but can't help but peruse and purchase the latest and "greatest" on KKW Beauty (and every other cosmetic site I can think of). There's something about the KKW Beauty brand AND it's not the makeup! Admittedly, I have fallen victim to the Kardashian world domination effort.
I love the KKW Beauty packaging. It's good quality and attractive. The brushes are great. They're dense, soft and a pretty shade of pink (me and pink is like a bull headed for a red flag). I haven't washed any of my brushes yet, so I might retract that statement..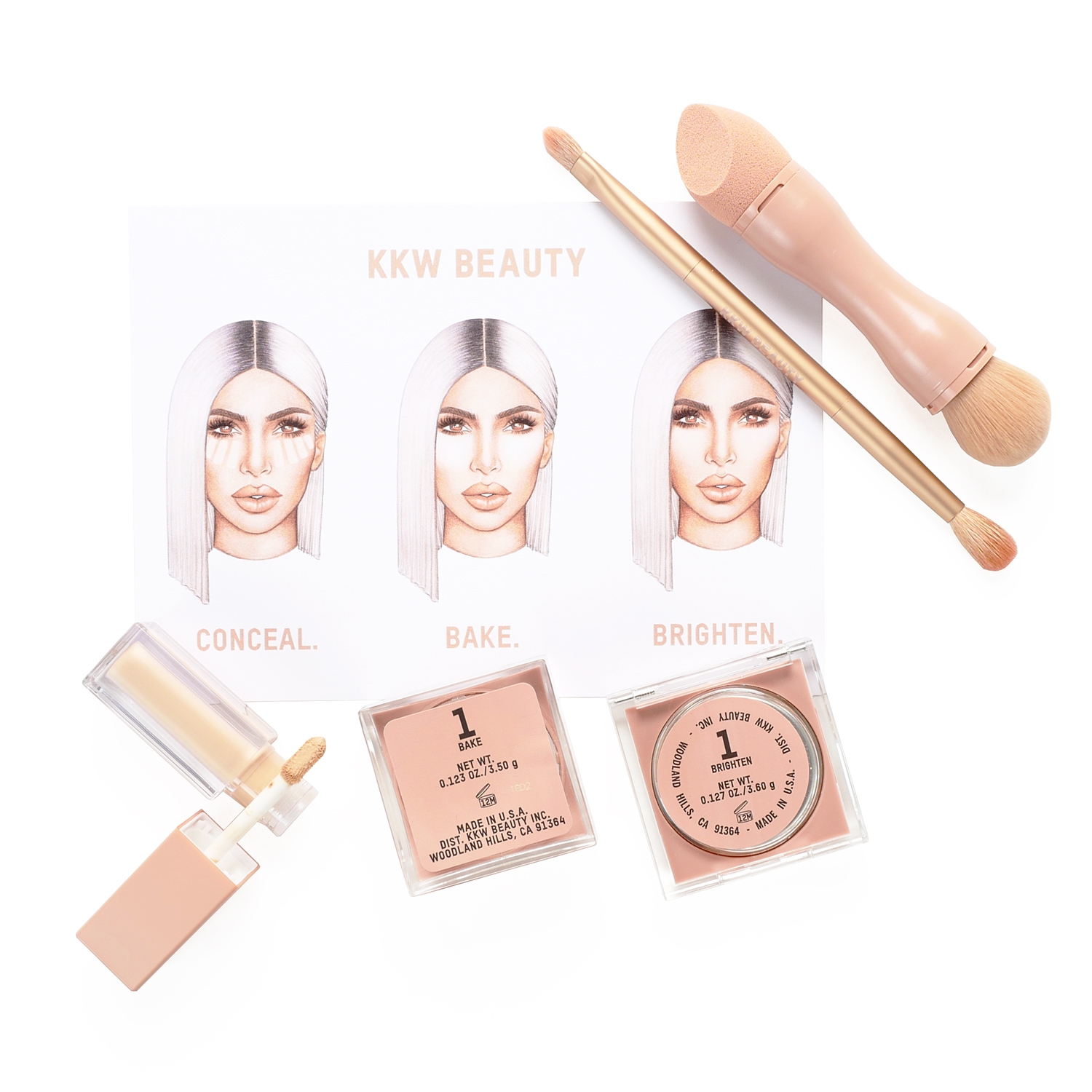 I lost the instruction card that came with this light concealer kit, so I watched the KKW Beauty tutorial a few times to be sure I'm getting the application right. The tutorial shows Mario Dedivanovic applying Kim's makeup and explaining his process. Kim Kardashian starts off by saying that Mario doesn't want her to speak during the tutorial, but she continues to chime in.. No surprise there - she is royalty after all!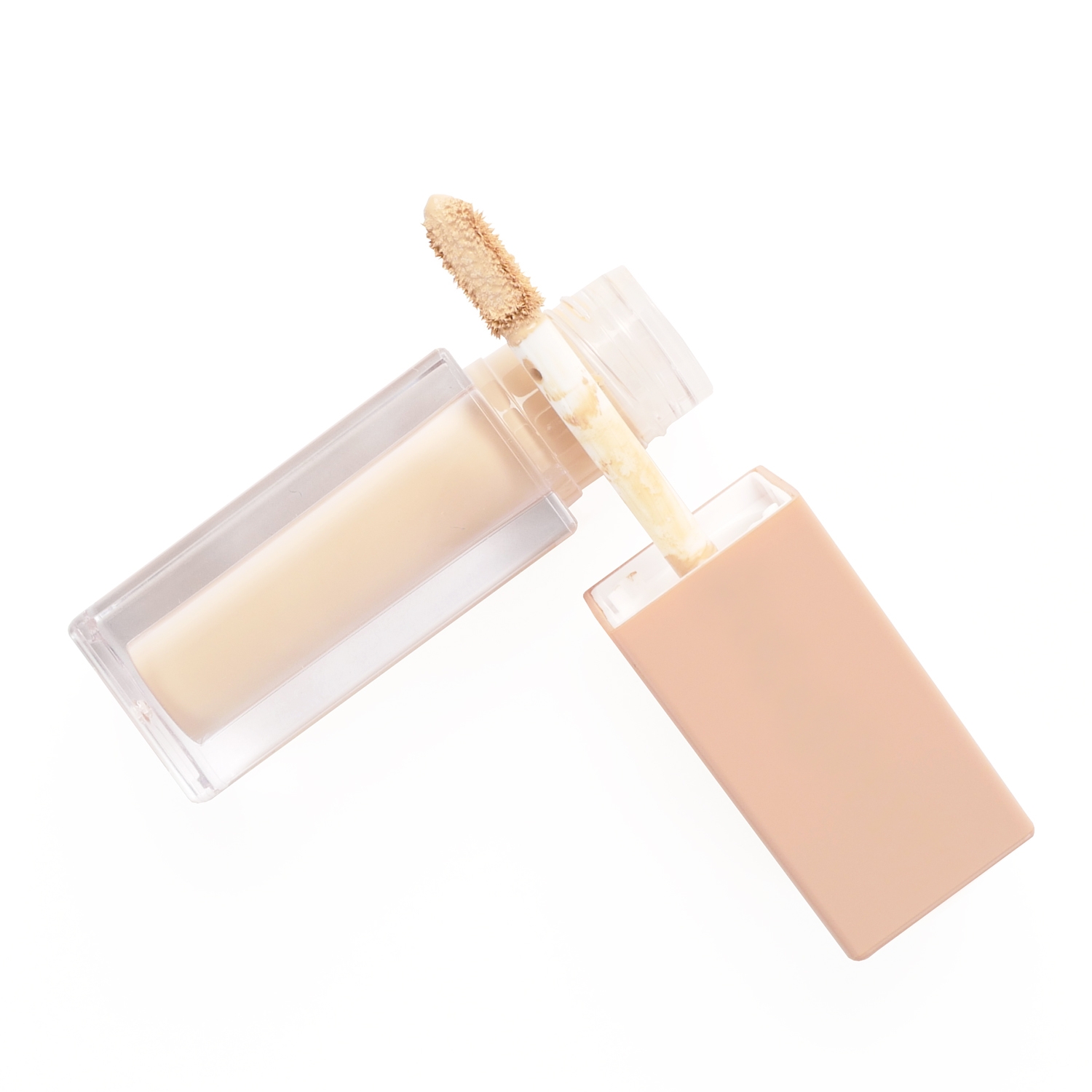 The concealer is nice. The color in the light kit is No. 4 and suits my pale, olive-toned skin nicely. The texture is medium and blends well. I would compare this concealer to the Laura Mercier Flawless Fusion Ultra-Longwear Concealer (LOVE this one). The KKW Beauty concealer does have a strange chemical scent - Hmm.. This liquid concealer comes in a small 0.162 oz container and has a doe-foot applicator. It's not gonna last long.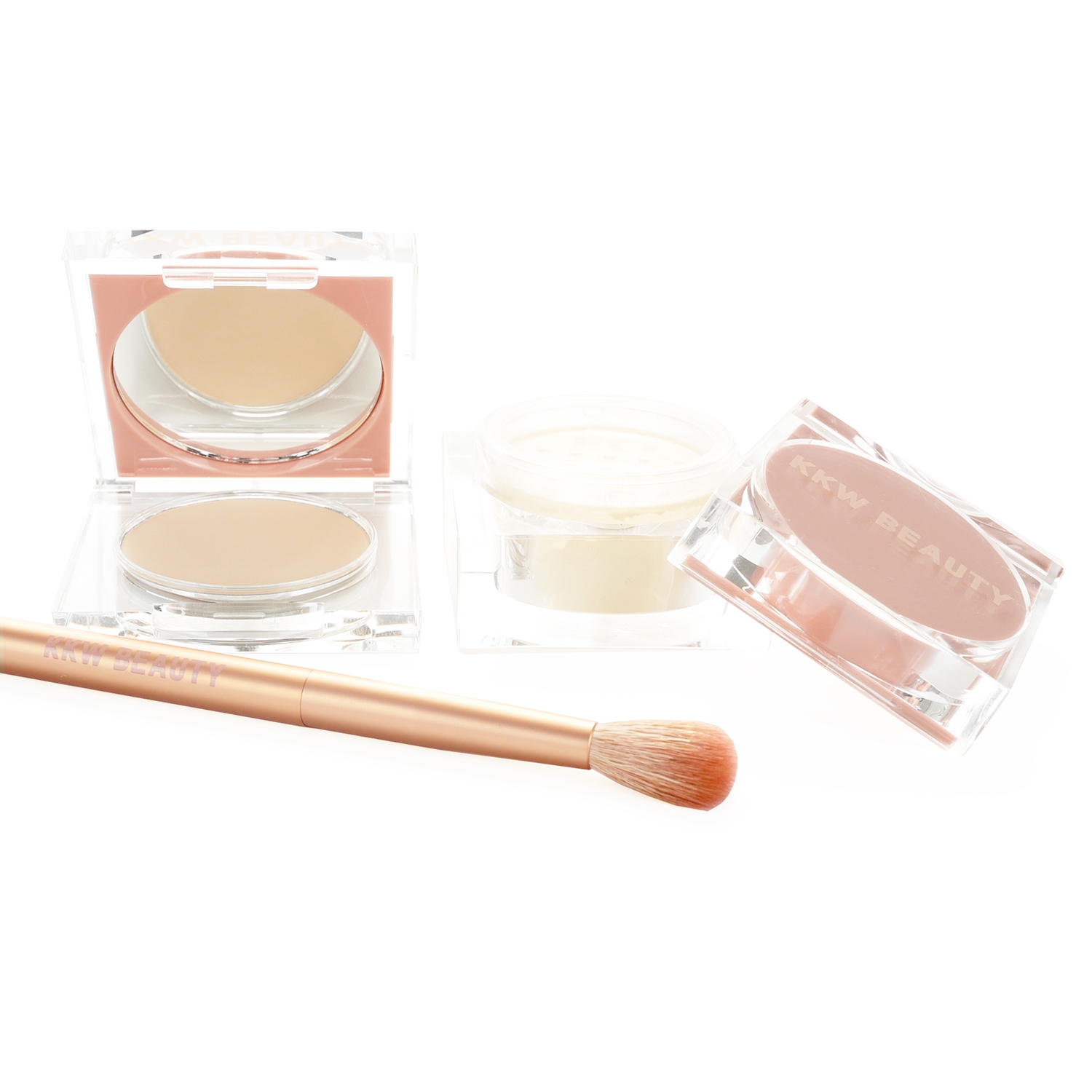 As per the Mario Dedivanovic KKW Beauty tutorial, let the baking begin.. But first, lets put things into perspective here. Kim Kardashian has a near perfect base (no-makeup base) and doesn't have the same struggles as most of us. I'm pushing 40 and masking dark circles is the least of my worries.
I think women of a certain age should stop wearing eye liner and mascara under the eye - makeup is meant to accentuate and why would you want to call attention to your tired, puffy, wrinkled eyes? You don't! Thats is why I avoid powder in this area. It seeps into your wrinkles and creates a dried-up prune"ish" look.
KKW Beauty Baking Powder is no exception and not suitable for anyone with even one wrinkle. This stuff made me look dry AF and only accentuated my wrinkles. I let the baking powder sit for a about 10 minutes and tried to smooth out the result with my beautyblender, but the powder was relentless and caused serious streaks under my eyes.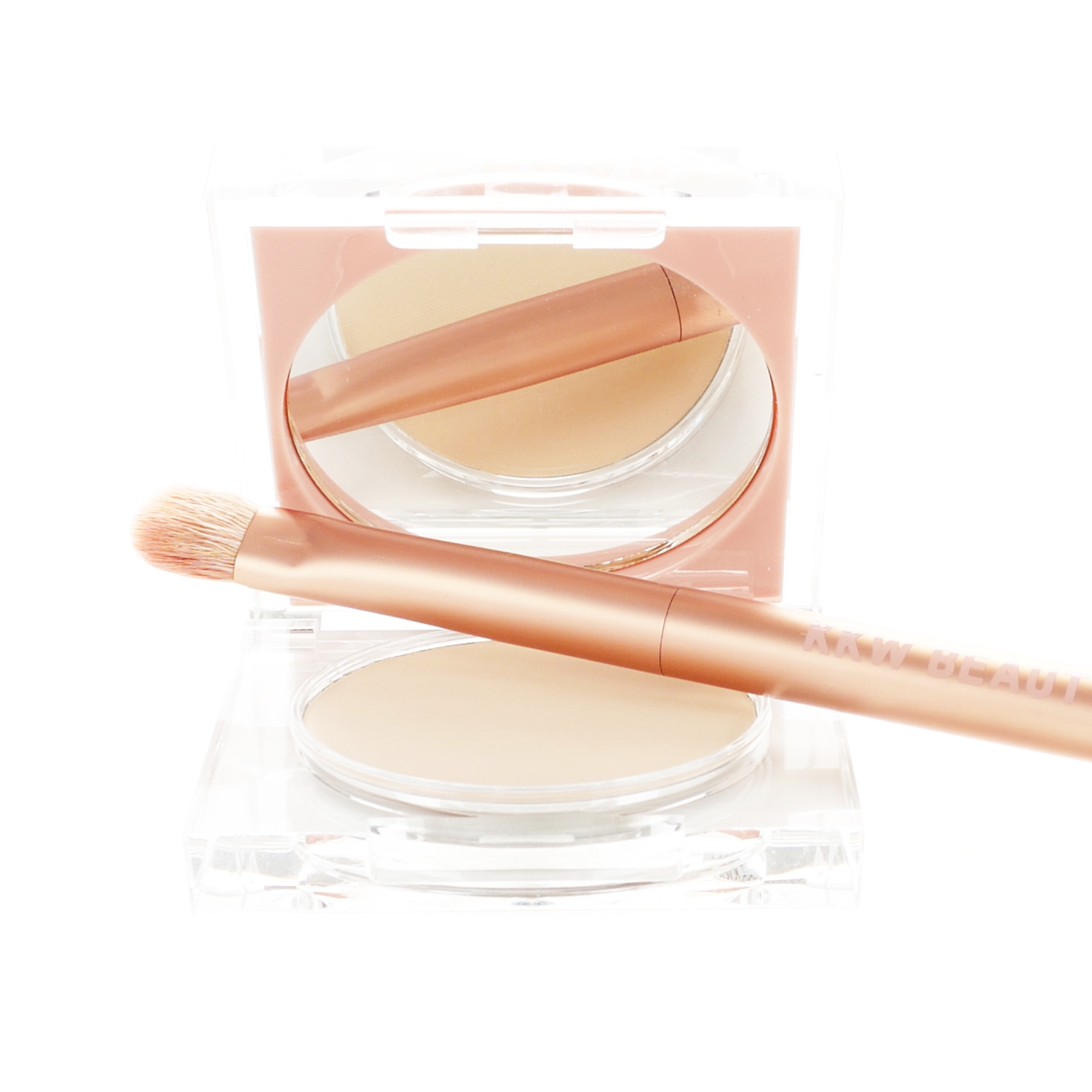 Step 3 - I applied the Brightening Powder No. 1. I hoped this would finalize the application process and possibly make it look better, but NO! It's too light and I looked like an alien! It definitely covers dark circles, but unless you plan to pile on a ton of makeup, this look is too much. This is not a no-makeup-makeup kinda look.
I have NEVER experienced makeup "boogers" before and was checking may eyes all day to make sure none had returned. I had these pale clumps of goo in the corners of my eyes and am assuming it was the excessive powder under my eyes. GROSS!
Should women approaching or over 40 "bake" their under eyes? NO, keep the baking in the kitchen and I don't mean do your makeup in the kitchen. Women of a certain age should opt for minimal makeup. Eat healthy, drink water and get lots of sleep - leave the faux, too much makeup look to the youngins. Under eye makeup baking is a dangerous zone for most of us.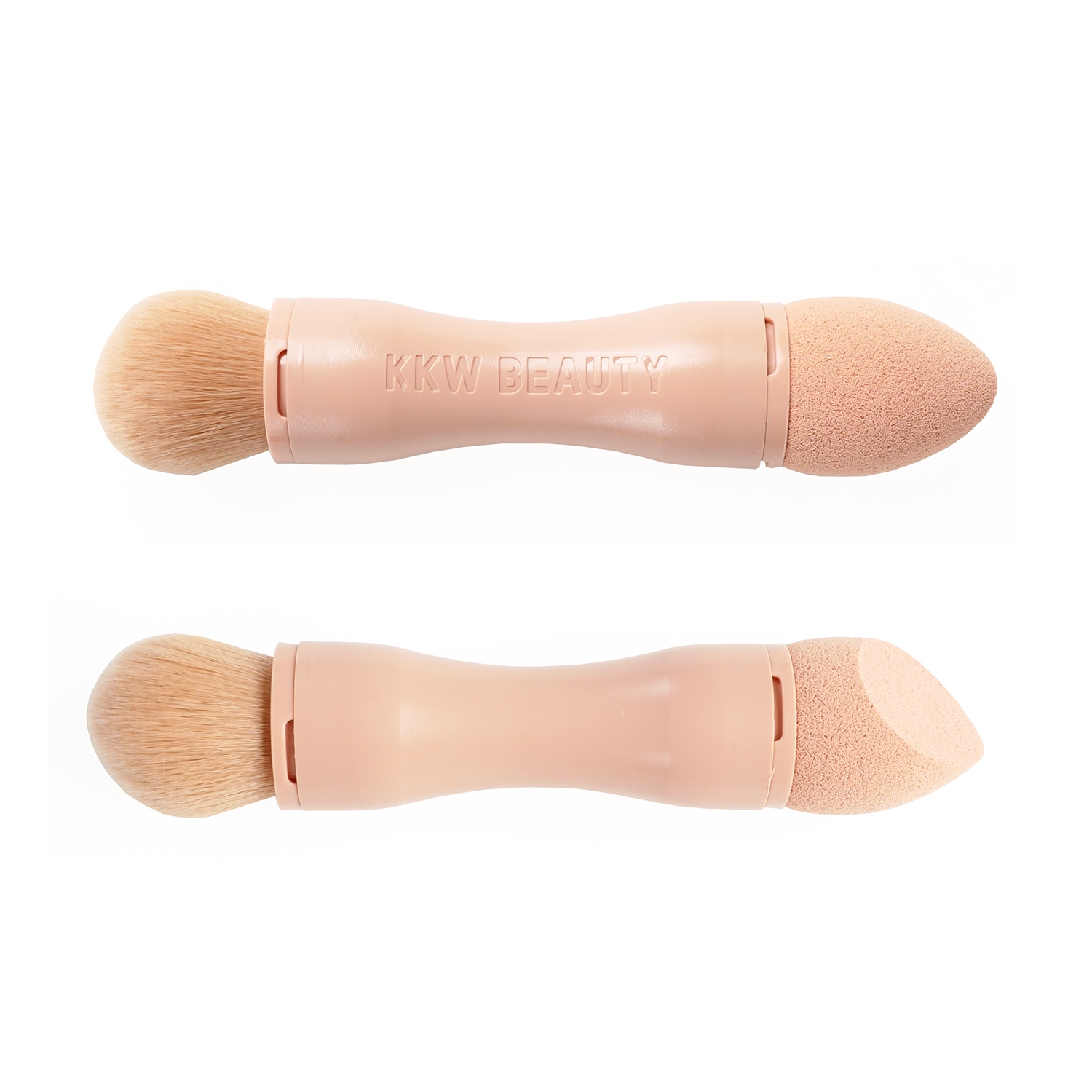 Albeit, I love the KKW Beauty brushes. The Dual Ended Sponge and Brush Applicator in the concealer kit is perfect for travel. The sponge is great for blending under the eyes and around the nose. This dual-ended brush has landed a permanent spot in my Cosmocube.
I'm sure the KKW brand was created and is backed by expert makeup artists and specialists and suitable for the younger generation, but this kit fell short of my "old" expectations. I was hoping for a perfect look, but ended up with prune face - I get botox three times a year and take good care of my skin, so if this kit accentuated my minimal wrinkles, I'd be cautious if I had a few.
JANUARY 19th - It's been a few days since my initial experience with this kit and my opinion has slightly changed. I'm still not a fan of the the baking powder, BUT I revisited the Brightening Powder No. 1 over my go-to concealers and LOVE the result. I apply Laura Mercier and Bobbi Brown concealers, let it sit and after 15-20 min, I gently swept the Brightening Powder No. 1 along the dark areas. This powder made my eyes look brighter and gave me a fresh look. I'm a fan!