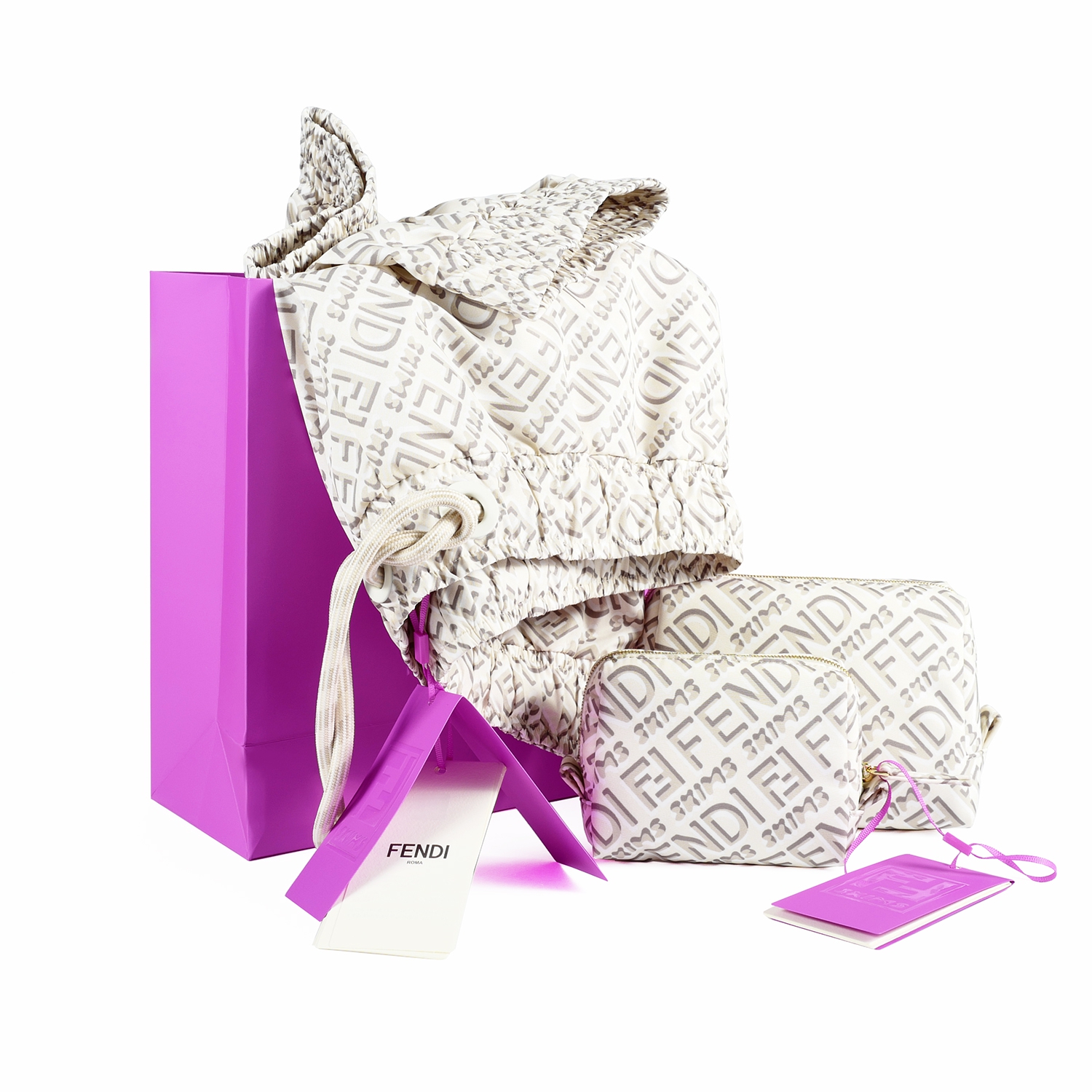 The much anticipated Fendi X Skims capsule collection has dropped and sold out TWICE. Dear Fendi X Skims - Please do a third drop for those of us that hit snooze one too many times.
SO, I slept-in the day of the first drop. BUT, was still able to snag the loose fitting pants and two beauty pouches. All three items are made of white and cream nylon with a diagonal FENDI Skims print in two shades of grey (color Connecticut). LOVE!
The pouches were also available in Georgia (a bright orangy-red), Colorado (purple) and California (kind of a brow/grey mix). The pants were also available in Georgia. These shades are consistent throughout the underwear to outerwear to accessories collection. Items came in solid colors and printed styles.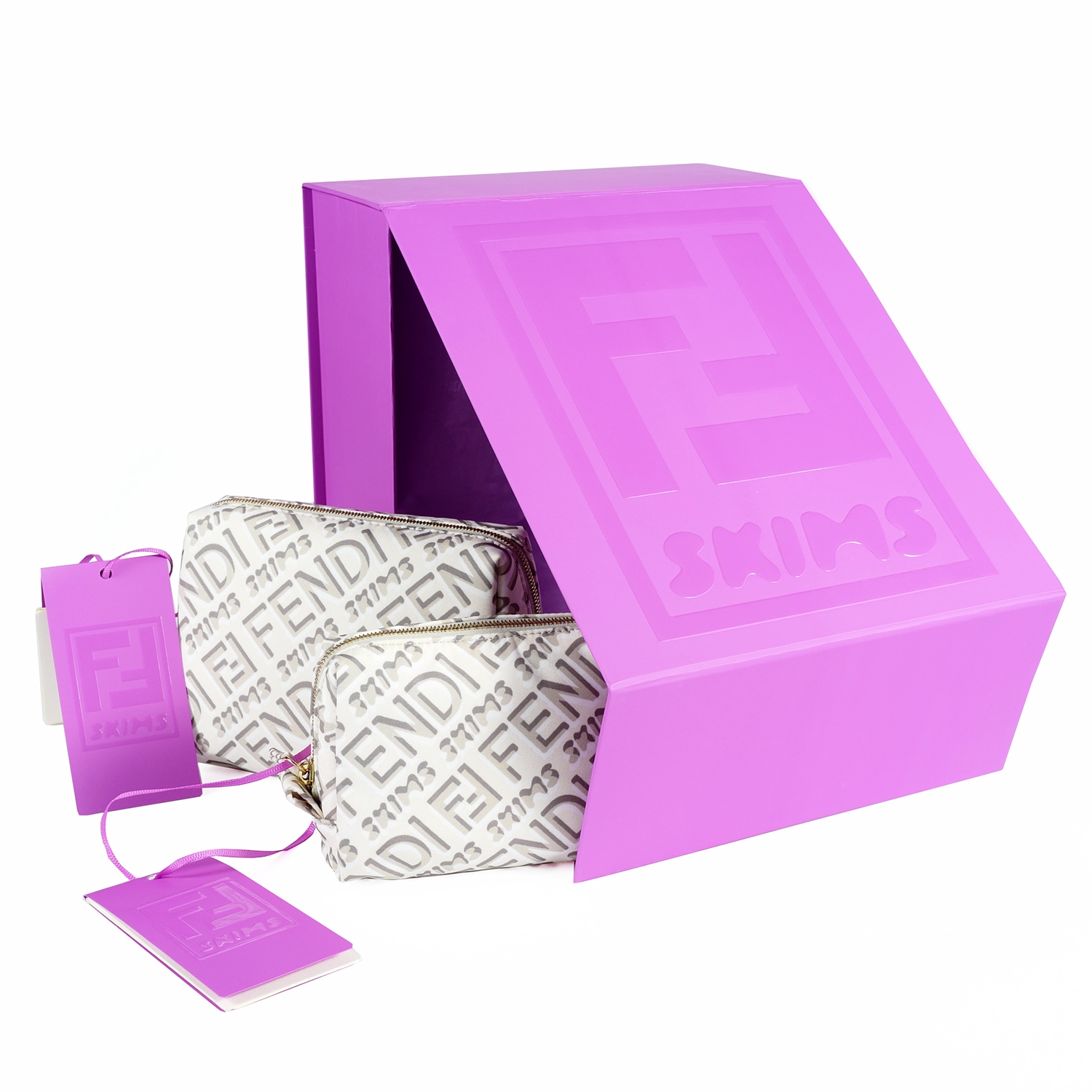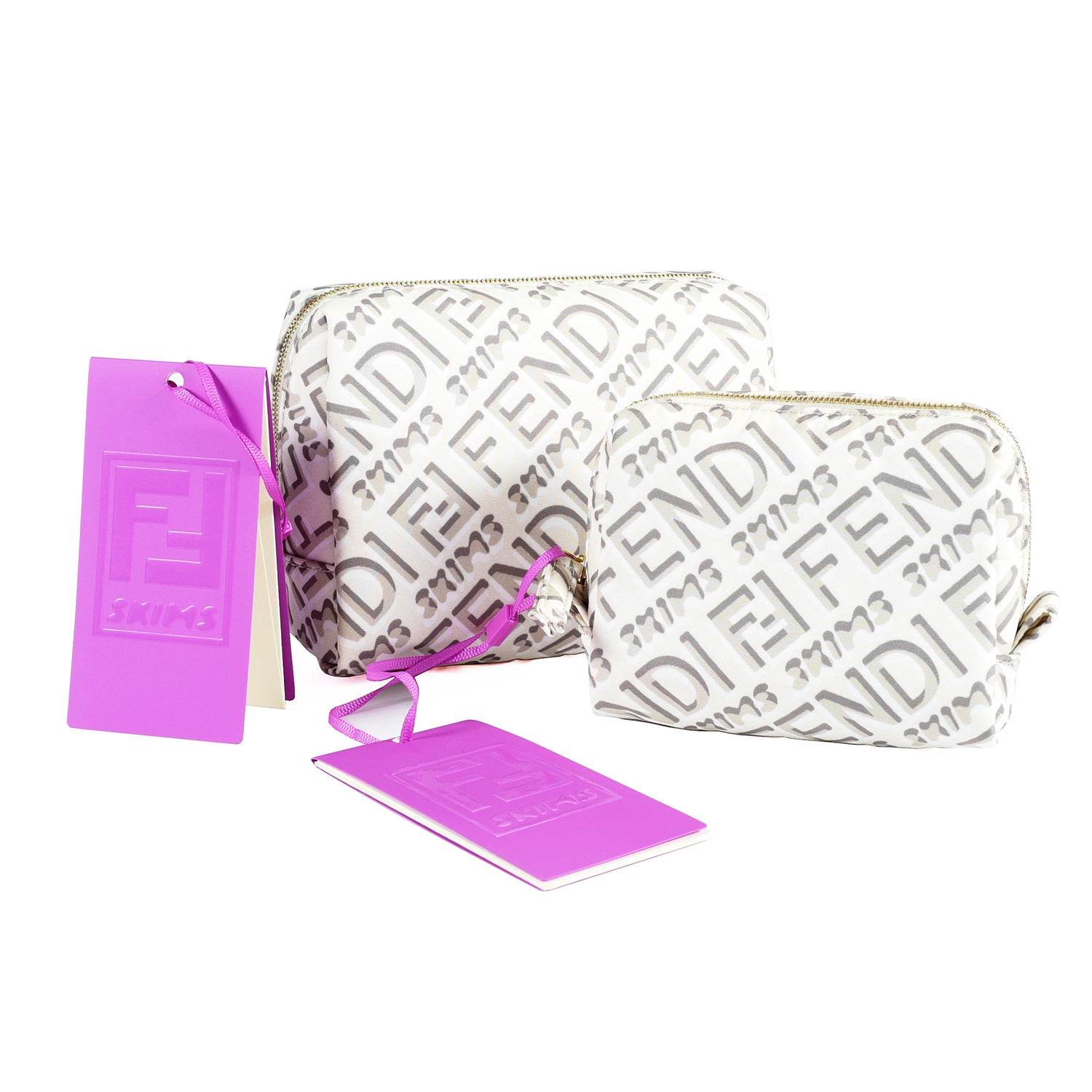 It's hard to tell on the Fendi X Skims site the actual size of these beauty pouches (cause it isn't posted). The mini is about 4.5" x 4" x 2". It's tiny! The small pouch is about 6.5" x 4.5" x 3.5". These pouches are perfect for mini to small handbags.
I love the FF motif FENDI SKIMS lettering and the Connecticut color-scheme are my go-to shades. These pouches have gold-tone metal accessories and a zip closure.
Luckily, I was able to snag the medium size beauty pouch during the second launch. SO, I have a lovely collection of Fendi X Skims beauty bags for every handbag size - From mini bags to totes.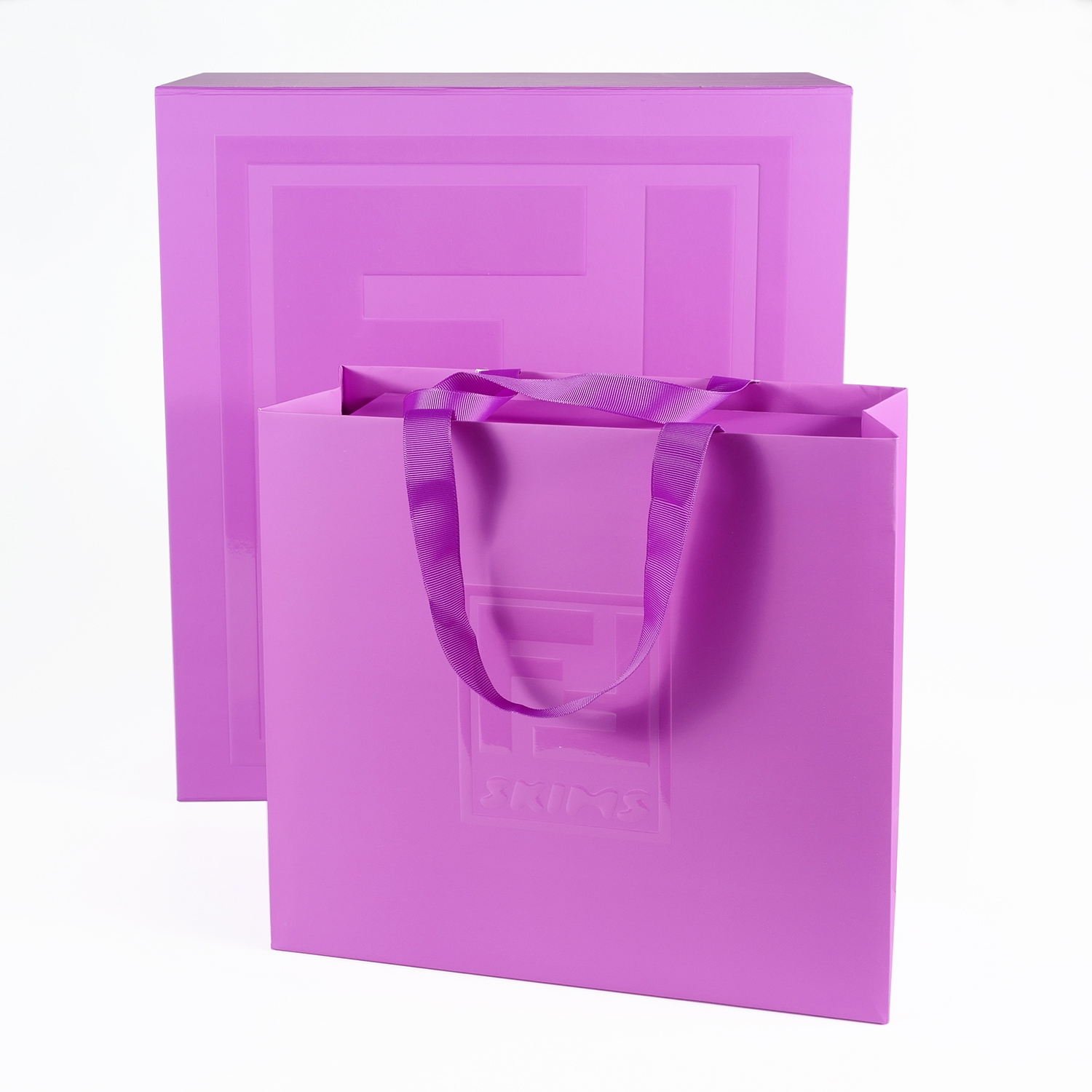 Let's talk about the packaging - It's genius! This shade of purple is GORGEOUS and Instagram worthy! Each item comes a appropriately sized box with a shopping bag. Each pouch comes in a dust bag donning the FF SKIMS motif.
This Fendi X Skims packaging was designed exclusively for this collaboration. People are actually selling the packaging online! I keep all my packaging for re-sale purposes. YUP - I do sell many of my good-fines a few seasons later. I gotta make room for new stuff.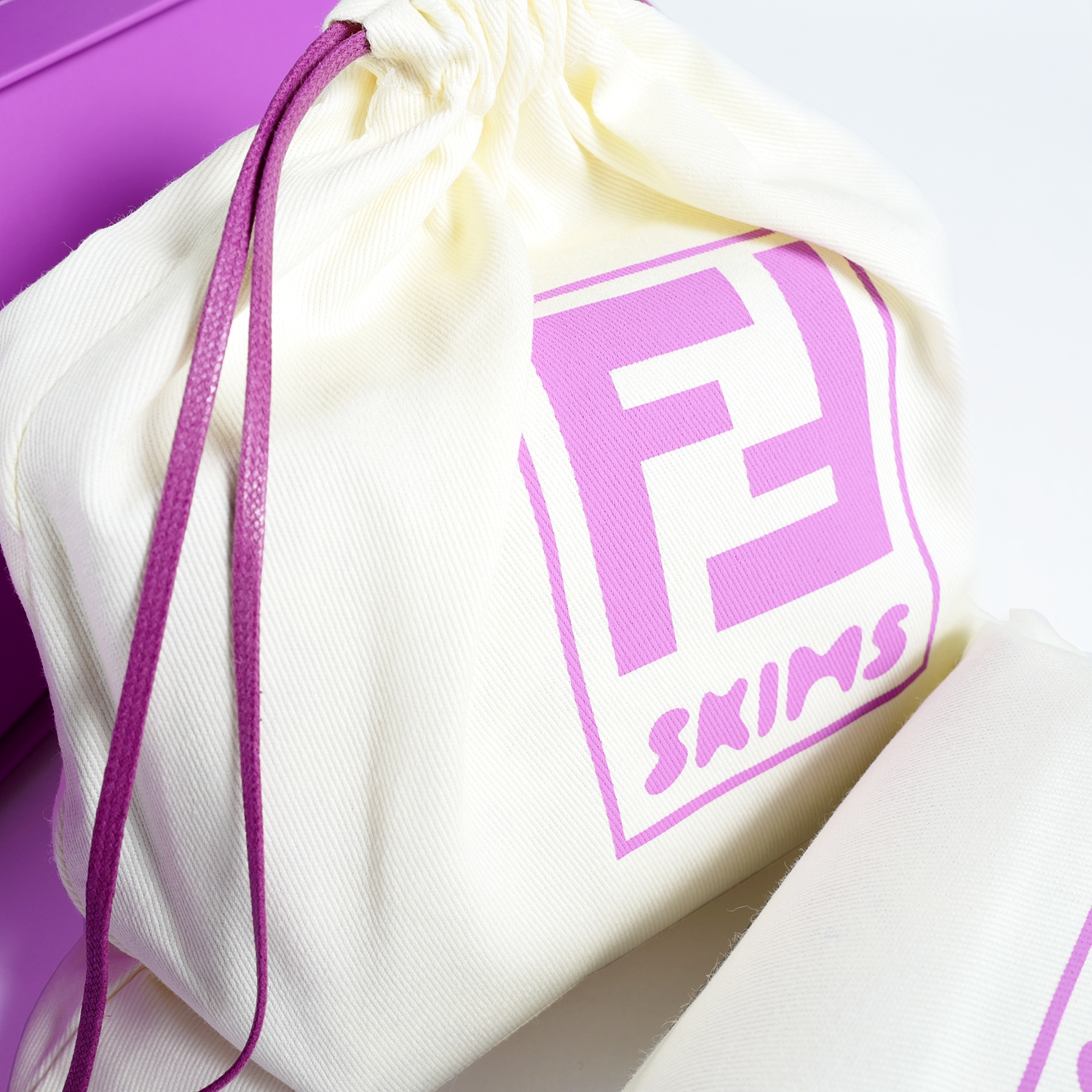 SO, the collection sold out twice and to all those fans that missed out on this fabulous collection, you can always go to Poshmark and pay triple the retail cost - I KNOW! Sellers are getting a little crazy with the mark-up. Be reasonable people!
I will be l listing the loose fitting pants in size large soon (NWT). Take a look at my PM account in the right sidebar - Click on any photo and it will take you to my PM closet.
I also purchased the cropped down jacket in the color Illinois (khaki). It's GORGEOUS. I'll post pics soon...