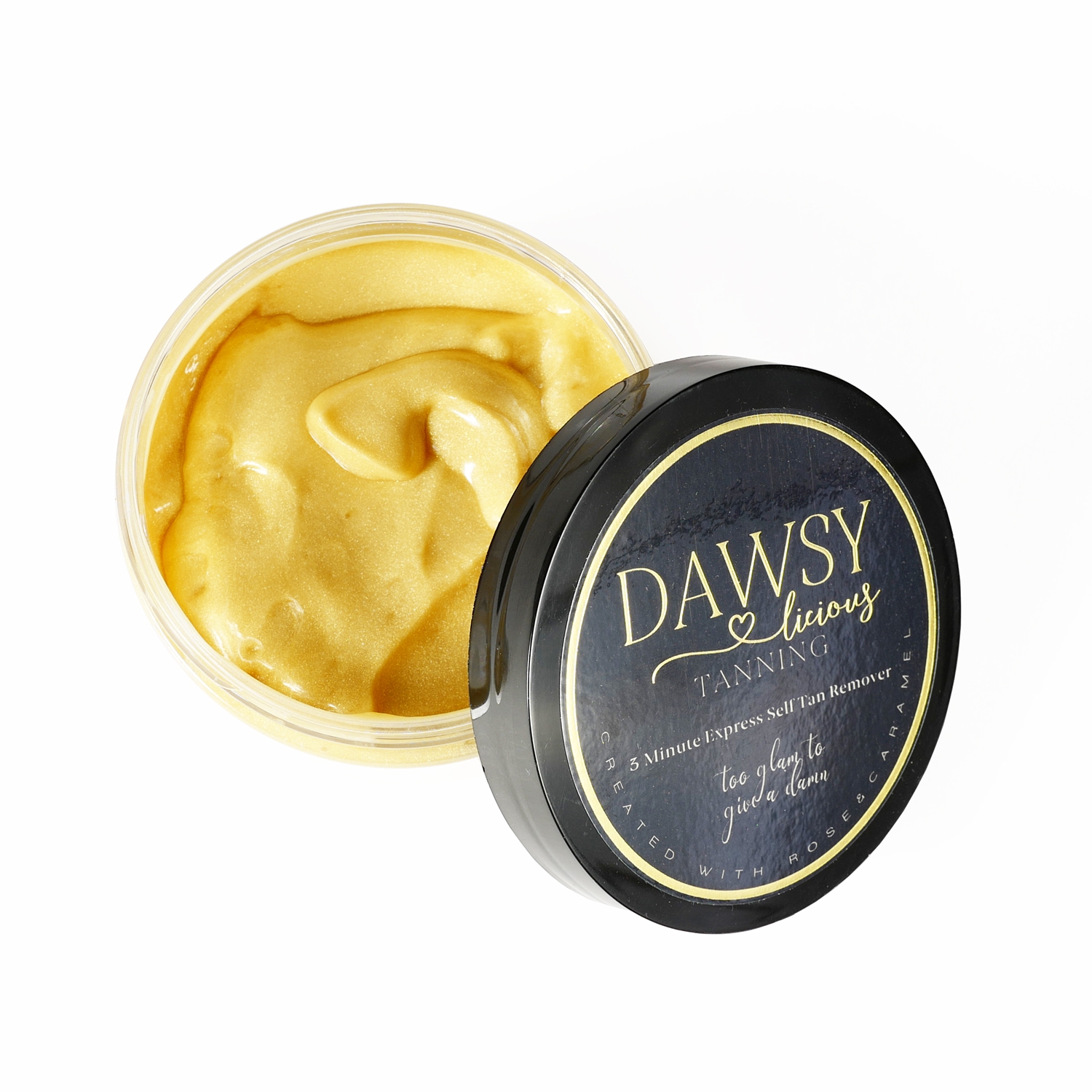 I love self-tanning and the darker the tan - the better. BUT, the darker you go, the harder it is to remove last weeks tan. After about a week, due to showers and everyday life, your self-tanner will start to fade and appear blotchy. SO, you have to remove the tan in order to apply a new one. DO NOT apply self tanner over a partially faded one.
Removing self tanner is no easy task. It typically requires aggressive exfoliating and if your self tan is super dark, you may have to do this a few days in a row to ensure a clean slate. I've tried many self tan removers, as well as DIY solutions and nothing worked - Until now..
The Dawsylicious 3 minute Express Self Tan Remover is a miracle. This stuff impressed the tan off me! You apply the gold shimmering formula all over the body (I avoid my face) and wait 3-5 minutes. Then hop in the shower with your exfoliating gloves on and give it a scrub. The formula dissolves your tan and leaves your skin feeling super soft.
The only downside is the strong scent. Be prepared, cause it will linger in your shower/tub for days. It is the Dawsylicious signature scent, so I'm assuming the self tanner products don the same aroma.
This express self tan remover is high-priced, but worth it. THIS STUFF WORKS! A must-have for those of us who want a sun-kissed glow, without the harsh effects from the sun.
Dawsylicious is owned by Charlotte Dawsy. You gotta follow her on Instagram (this is not a promotion). She is the funniest fashionista on social media. Her videos are outrageously funny and her fashion is gorgeous. Everyone needs a Charlotte Dawsy in their life.