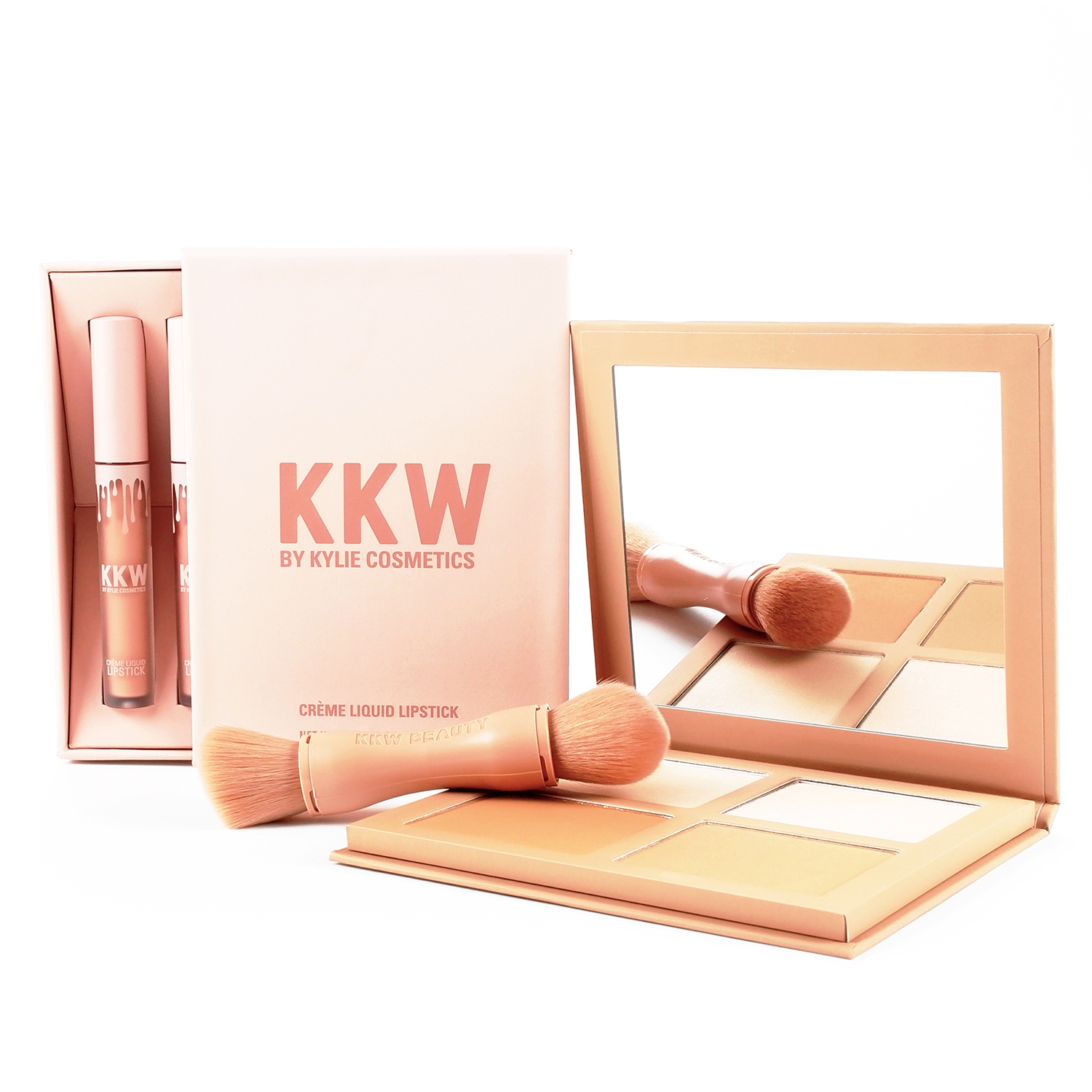 Admittedly, I was hesitant about KKW Beauty. Of course the Kardashian clan would launch a thoughtful makeup line, but I'm not fan and am reluctant to support their world take-over. Eventually, I gave in and.. My first purchase included the KKW Beauty Powder Contour & Highlight Kit and Crème Liquid Lipstick Collection. I gotta say, the packaging is my favorite part (nice colors and good quality). AND the products are high quality too. Clearly the tribe of successful stylists and talented makeup artists surrounding the Kardashians had a lot of input in KKW Beauty.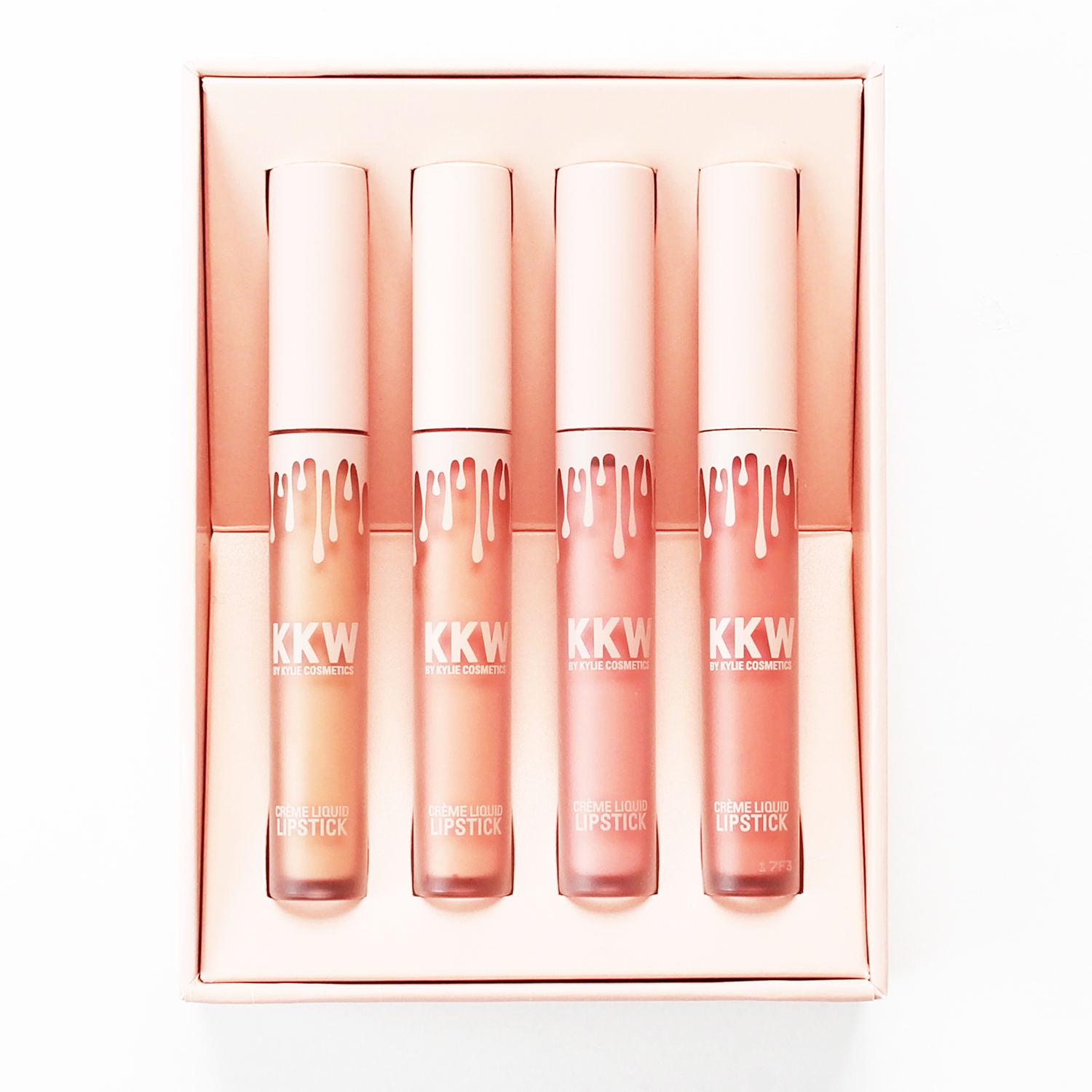 I don't like lipgloss - AT ALL! It's often too sticky and I'm not a fan of shinny lips. The KKW Beauty Crème Liquid Lipstick Collection may look like gloss and comes in a 'lipgloss' tube with a doe foot applicator - it's definitely not a gloss. The Crème Liquid Lipstick has sheer to medium coverage, is creamy and non-sticky. This hydrating lipstick feels light on your lips. There are four colors - Kimberly, Kim, Kiki and Kimmie (she's not vain!).
The 'Kimberly' lipstick is a true nude and too light for me. I like barely-there makeup, but this color washes out my complexion. The 'Kim' lipstick is a light, peachy nude AND again, too light. The 'Kiki' lipstick is a pale, rose-tone and also very light. The 'Kimmie' lipstick is a deep nude. I like this one - it has a slight coral color to it and suits my complexion nicely. Of course, these shades will look different on everyone. Sheer lipsticks compliment your natural lip color, resulting in different effects on different people. I like this product, but am a little bummed that I'm stuck with three Crème Liquid Lipsticks that I will never use.
I like the KKW Beauty Powder Contour & Highlight Kit. The thoughtful packaging is sleek (good for travel) and dons the signature pinkish-nude shade, along with a huge mirror (love the mirror). The pans are large, so while this palette is expensive, you're getting a lot of product. The Powder Contour & Highlight Kit comes in three color combinations - light, medium and dark/deep dark.
I have pale skin, so I opted for the light kit. There is a lot of pigment in these powders - A LOT! The two matte contour shades have super-high pigment, but blend nicely. I suggest applying a little, blend and repeat until you get your desired look. The buildable powders are soft and kinda creamy. There is a lot of powder fall-off. The big pans are useful, cause you will loose a lot of product - I take back my 'you're getting a lot of product' comment.
The Contour I - Light Tan is a bit too warm for my skin tone. Maybe if I was tanned, this would work for me. The Contour II - Mid Tone Beige is suitable for my skin tone. I don't know how KKW Beauty came up with the name 'Mid Tone Beige'. This shade is nowhere close to being beige - it's a pale brown. I like the color. It is however a bit dark, so be careful not to apply too much. I'm not really a contour kinda girl, but a little around the hairline and jawline does amp up my barely-there makeup.
The Highlight I - Soft Champagne is a light shade, but there is a lot of pigment and it will give you serious highlight. I've seen bloggers with darker skin tones apply this highlighter and it looks too light, but on pale skin, it looks nice. Again, apply a little and blend. I like the Highlight II - Soft Peach more. Peach and coral shades look nice on my pale skin and compliment my black color-treated hair. This shade will run out long before the other powders.
I've read mixed reviews about the Duo Brush I and most beauty bloggers don't seem to like it. I really like this duo brush. It's pretty and the bristles are soft and dense. I think the brushes are a bit to big for highlighting and contouring, but I've found other uses for them. The rounded brush and angled brush can be removed - It is my understanding that KKW Beauty will release additional sponges and brushes that can be attached to the handle. Detaching the brushes is a bit challenging and may cause damage to the bristles over time.
The downside to many of the KKW Beauty products is that they are only available in kits. You're gonna end up with shades you don't like and this stuff is expensive! Albeit, I went on to purchase more KKW Beauty products. Stay tuned..