Lipstick, lip balms, lip exfoliators, lip treatments.. I'm addicted to lip'stuff'! It's not even possible to use everything in my giant Cosmocube, but I just cant help myself. My latest lip loves are the perfect summer shades and a new nourishing balm.
Too Faced quickly became one of my favorite cosmetic brands this year. I purchased everything from the Peach collection and now I'm addicted. This Too Faced Peach Beach lipstick is the perfect coral shade. The color enhances sun-kissed skin and gives a pop of flirty, summer color. It's not bright (or florescent - like some), but rather a subtle coral.
The creamy product glides on nicely and feels like it's nourishing your lips. The scent is kinda strange and off-putting (oh, and it lingers). I think they were going for a peach scent, but I'm confused by the outcome? Albeit, I still love the color and the texture is nice.
The packaging is attractive, solid and goes well with my Pat McGrath Labs Lip Fetish Lip Balm..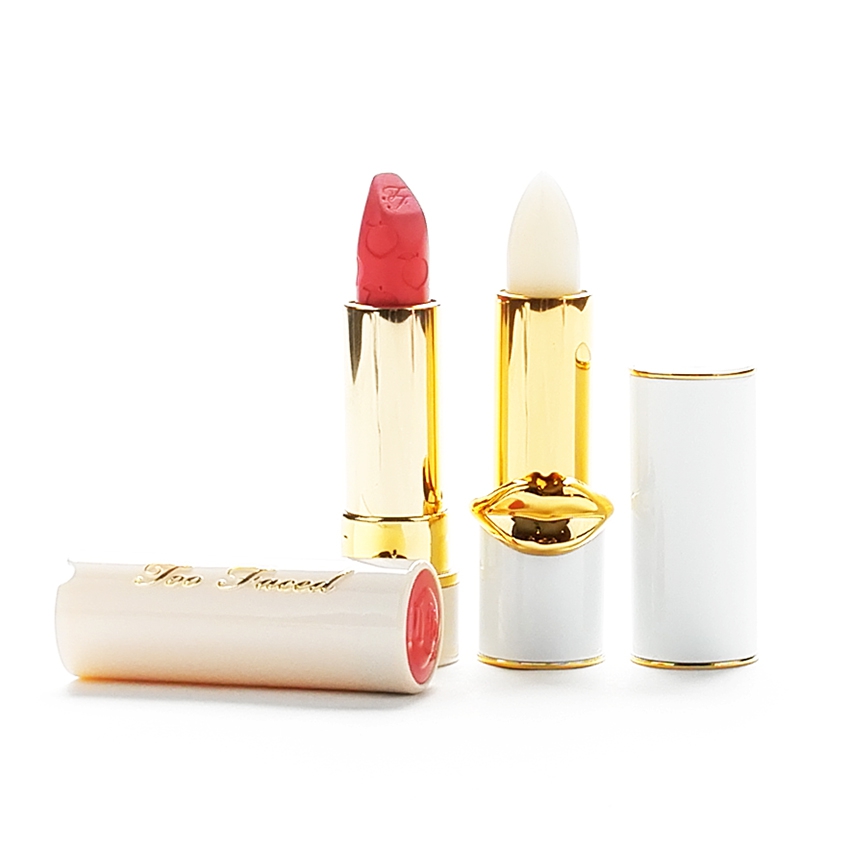 Since Sephora discontinued my favorite Kiss Me lip balm, I've been on the hunt for a balm just a good (it's been a struggle). I've purchased a few great ones, but everything pales in comparison to the Kiss Me Balm.
Pat McGrath Labs Lip Fetish Lip Balm is definitely a contender for the favorite title. The packaging is great, solid and I love the gold-tone lips embellishment. The barely-there scent is subtle (I like that). The balm is creamy (I can feel a little wax), lightweight and feels nice. It's lighter than most balms I've tried, but you can feel the product on your lips.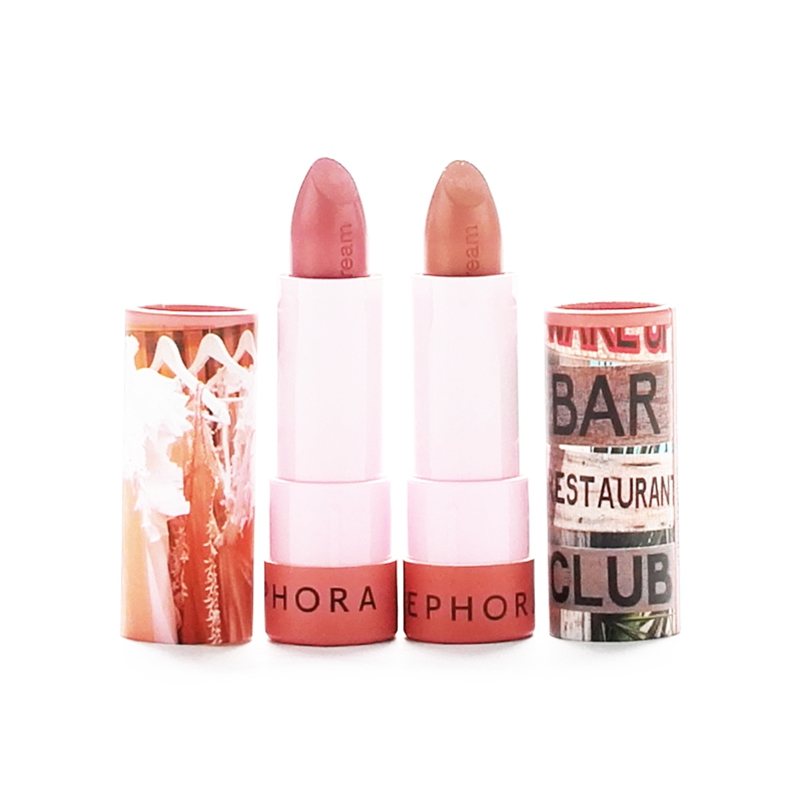 The Sephora Collection #lipstories lipstick lineup currently consist of 40 thoughtfully packaged shades in matte, metallic and satin finish. I love the decorative tubes. They're small and each one dons art representing adventures around the world. The packaging itself seems a little cheap, but don't be fooled - the lipstick is good quality.
I'm a nude, peach and coral lipstick kinda girl. I rarely sway from my go-to shades, but if you love trying new colors, this collection is perfect. The lipsticks are inexpensive and small. You won't feel terrible if you dislike the color and toss it.
I purchased satin finish 03 OUI! (cream finish) and 06 Tan Lines (cream finish). These shades are perfect for my skin tone. They are lightweight and still give you full-coverage. 03 OUI! is a pale rose tone and 06 Tan lines is more nude with a little hint of peach. The lipstick goes on nicely and doesn't dry out your lips. I always apply a nourishing lip balm minutes before applying lipstick (you should try this method).
Both lipsticks have a fruity scent, so I'm assuming they all do. I'm not a scented lipstick fan, but could it be worse and smell like flowers! YES, they're are floral scented lipsticks! YUCK!
I'm a fan of the Sephora Collection #lipstories lipstick collection. Sephora - PLEASE stop discontinuing our favorites and bring back the Kiss Me Balm!